IDENTIFY GENUINE STERLING SILVER
As a reseller of wholesale jewelry, your ultimate goal is to create value for your customers. You have obviously put in a lot of effort to keep up your business name and image on the top, so you can't sell anything in the name of sterling silver to your customers until you aren't sure about its quality. Agreed?
Then here is a complete guide detailing the difference between sterling silver and fine silver, providing you with the reasons to invest in the sterling jewelry, and highlighting the ways through which you can identify the authenticity of the silver jewelry. Let's dive:
1. Fine silver (99.9% pure) vs. Sterling silver (92.5% pure):
Fine silver and sterling silver has some minute differences in their composition, but the ultimate result and the utility that each of these silvers provides is a lot different. Here is a brief introduction to both these types, so you can be well aware of the exact metal used in the wholesale jewelry you buy.
Fine Silver:
Fine silver is the purest silver that you can find in the market. Usually, it is 99.99% pure, providing you with the real beauty that you can expect out of metal. However, it is the purity of the pure silver that makes it too soft and impractical to be used in jewelry or molded into other forms.
Sterling Silver:
Sterling silver has been created to reduce the loopholes found in the fine silver. This specific form of silver is mixed with copper to form an alloy that can be molded into shapes and can still look beautiful. The composition of the sterling silver alloy is 92.5% fine silver and 7.5% copper. It is because of the chemical composition of the Silver sterling that it is also named "925 silver."
2. Why Invest in 925 Sterling Silver?
Here are some of the reasons that would convince you of the value that is the part of 925 silver.
(1) Durability:
Jewelry made of sterling silver can maintain its originality for decades. You won't have to worry about its wear & tear or discoloration, so you can manage your inventory without facing any problems or concerns, thus making your investment in sterling silver secure and worth investing in.
(2) Trendy:
You can keep up with the changing trends in the jewelry industry when investing in 925 silver. Because of its high demand, you'll always find the latest trends to be adopted and incorporated into this metal as well. Thus, you can always be in the first place when it comes to the trendy designs and associated demands of the customers.
(3) Diversity in design and style:
Being a relatively soft metal, wholesale jewelry can easily be molded into the diverse designs that your customer are looking for. So, investing in this industry would let you have new products often to satisfy the needs of your customers.
(4) Hypoallergenic:
Some people are allergic to certain metals, including brass and nickel, but sterling silver allows you to wear it with great ease without causing any potential harm to your customers, so they can wear it easily and enjoy the different styles and designs in this particular wholesale jewelry range. Thus, you can expect more sales and recover your investment well in time.
(5) Recovering tarnished jewelry:
Like some of the other metals, you'll see that jewelry made from 925 silver will undergo the same blackish color when kept for long. Interestingly, the research conducted by Conversation Institute Canada indicates that the tarnishing speed of sterling silver is higher than the other metals. But this change in color or tarnished image is not permanent. As soon as your customers would start wearing the original 925 sterling, the gone shine will be back again. This is because of the oil from the skin. Your customers will no longer have to keep the jewelry in storage. They can continue using it and still maintain their favorite jewelry item in the original shine and color. With this surety, you can sell more to your customer and can even keep the designs in your inventory for a long without having to maintain a specific non-humid environment.
(6) Versatility:
You'll no longer be targeting niche customers; rather, when using sterling silver you'll be focusing on different forms of jewelry that can be worn on formal, semi-formal, and casual occasions. Similarly, the price range of the products is diverse, so you'll be in a better position to get your investment back with a profit. Doesn't it sound great?
(7) Continuously rising prices:
Another strong reason to consider sterling silver as your investment venture is the historical analysis of its price. In 1999, the price of an ounce of this metal was $5. Today, after 20 years, the price is$15, which shows an increase of 200% over these years. There have been spikes in some of the years, which have even reached to $45 at some point in time. With this analysis, it is clear that you'll enjoy an increase in the total value of your wholesale jewelry if you'll invest in it now.
(8) Association of health benefits:

The research conducted by the University of Southampton in 2008 has validated that using Sterling silver (particularly the silver rings) can reduce the symptoms of arthritis significantly. The recent research published in the International Journal of Nanomedicine highlight that silver possesses a wide range of antibacterial, antiviral, and antifungal properties. It highlights that using silver can actually be beneficial for human health. As a wholesaler, you can use this information to market the silver sterling products and as a result, get a higher turnover. Higher turnover definitely gives you one of the reasons to invest in this metal.
(9) It is here for centuries:
You might not buy it as an excuse to invest in the Sterling Silver but the truth it is its existence for centuries proves it to be one of the fittest alloys for the human race. The origin of the Sterling silver was in Continental Europe and it has been in use since the 12th century. People have used it in different forms for different purposes. Even today, it is being used in various industries, thus showing that Sterling Silver jewelry is not going anywhere any soon. So, it is quite safe to invest.
How to Determine For Authentic 925 Sterling Silver Jewelry?
By now, we are hoping that you would have made your mind regarding the investment in 925 silver in the wholesale jewelry category. But before you step into this category, you should be sure that the silver you are buying is authentic and is really 925 sterling.
To make this sure, here are a few tests that you can run on a jewelry item and find the realness or fakeness. So, why are we waiting? Let's start the discussion about these tests.
(1) Marking on the wholesale jewelry:
You'll find the 925 marks on the jewelry to ensure the 92.5% silver present in a particular jewelry item. Usually, the placement of such a mark is at a position, which isn't normally visible. You might want this stamp as proof from the owner, and definitely, your customers would be looking for such proof too. So, make sure you find it before placing your wholesale order.
Usually, the clasp of the bracelet and the inside of the ring would have this stamp. Unfortunately, the increase in demand has also triggered an increase in fraudulent activities. Even the non-.925 sellers have also started using this stamp. So, now this mark alone does not provide the guarantee for originality, and you'll have to perform the other tests to be sure.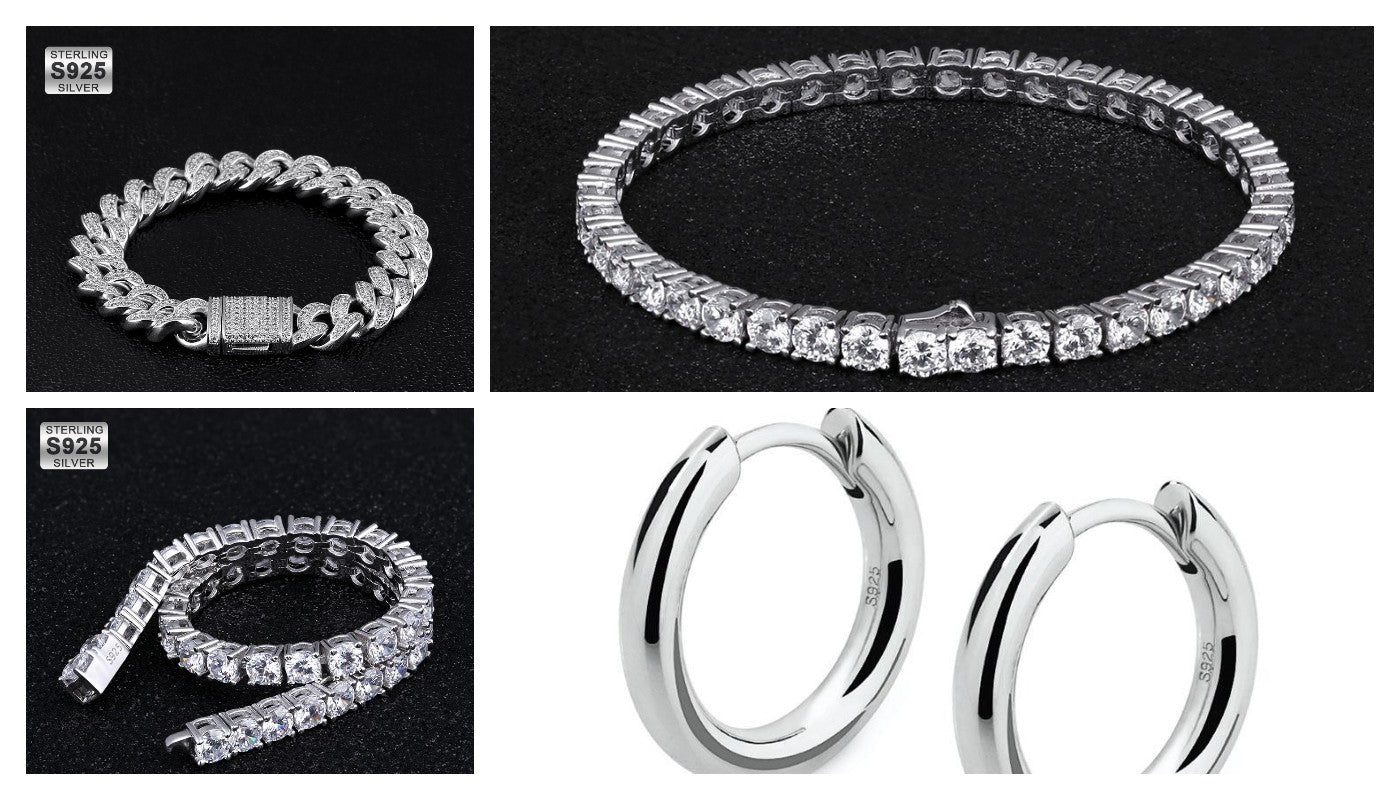 (2) Simple rubbing test:
This is the easiest test that you can perform in literally no time to check the authenticity of the wholesale silver sterling jewelry. You should take a soft cloth and rub it on the jewelry item that you want to test. Rubbing it on the jewelry will remove the tarnish signs, and the cloth will have black spots. If this is the condition that develops, then your jewelry is a hundred percent authentic and made of sterling silver.
(3) The smell test:
Smelling the jewelry can also help in finding the authenticity of silver sterling. Jewelry items with no smell are authentic. But if upon smelling, you'll find some metallic smell, then it is a hint that a higher quantity of copper has been used in the allow, thus 92.5% condition for creating the sterling silver has not been fulfilled.
(4) The Magnet test:
With the help of the magnet test, you'll be in a better position to find the originality of your 925 sterling silver jewelry wholesale. Silver is a non-conductor of magnetic forces. Adding some copper in it makes some part of it the conductor, but still, it is not strong enough to be attracted by a magnet. Hold the magnet close to the jewelry item under consideration. If it is attracted to the magnet, then you are dealing with something other than pure sterling silver. Ideally, the magnet should not be able to attract the sterling silver.
(5) The Nitric Acid test:
This one is a bit difficult to perform but if you are dealing in wholesale jewelry, then going for this test is a must. You need to put a drop of nitric acid on the jewelry. Original sterling silver would show no impact; no colorations, or bubbling. However, when the same nitric acid is put on the fake product, it will show green coloration and bubbles too. So, you can identify that the product sold to you is authentic or fake based on this test.
Summing Up of 925 Sterling Silver:

With all this information about Silver Sterling, we are sure that we have convinced you to invest in Sterling Silver. Now if you are looking for an authentic source to buy 925 Sterling Silver wholesale jewelry, then KRKC is the best option to consider. We can assure you that you'll get all your jewelry items fully tested and backed by our strong brand guarantee. Don't wait for any further and contact us now for further information. Our helpful customer support is waiting to help you.