BEST MARKETPLACE FOR JEWELRY
No doubt, starting an e-commerce business requires knowledge, and when it comes to selling jewelry online, then it's entirely different from what is needed for an offline business. Before starting the jewelry business online, the business owner should go-to-market strategy and must be familiar with the various sales channels, and have the ability to find the accurate platform to present your online jewelry business.
So, many entrepreneurs fail to find a suitable online marketplace to sell jewelry. The largest online marketplaces in the USA, are Amazon, eBay, Sears, Walmart, and Etsy flourishing in their steps in jewelry selling.  
1. Three types of jewelry marketplace
As the offline jewelry business runs on some criteria, like the retailer sells jewelry in the local fair compares to malls, it sells at a different scale. Similarly, online business runs on various characteristics and matches different eCommerce retailers. To increase your business success online, it's crucial to choose the marketplace that suits your jewelry business most. Generally, there are three types of marketplaces.
Before selecting a suitable marketplace that can increase your online business, the entrepreneur must have in-depth knowledge regarding different marketplaces. This will help you range your efforts that you can easily choose the right marketplace that can drive your, shoppers on your shop. The marketplaces are:
(1) Vertical Marketplace
The vertical marketplace is the place that offers you industry-specific products or services from multiple sellers. For Instance, the marketplace only sells jewelry from unalike sellers or the marketplace that particularly deals in real estate and shifts for short-term in jewelry business such as Airbnb.
(2) Horizontal Marketplace
On the other hand, the horizontal marketplace sells an enormous array of products to shoppers that share the same characteristics.
(3) Global Marketplace
This is the common marketplace where everyone can get everything for everyone. For Instance: Amazon and eBay.
Apart from these channels, numerous other channels are present that deal in the jewelry business.The worldwide selling marketplaces are as follows.
2. Recommended Marketplace: Amazon
Amazon is the largest marketplace in the United States and occupied 50 percent of US online jewelry sales (the most competitive market). Mostly the buyers on Amazon are more interested in logistics and price compare to jewelry design or uniqueness. This is the main reason that makes Amazon a good fit for larger sellers. The sellers target the mass-production and create more classic designs or fashion jewelry.
It has been noticed that most jewelry is sold on Amazon below $1000. Amazon offers the best opportunity to the sellers to scale as well as limit what can be sold. For instance, logistics.
Amazon prime hikes the sales of jewelry up to 80 percent, which implies that fulfillment is handled through Fulfillment By Amazon (FBA). That means the sellers need to invest in a considerable amount of inventory so it can be sent to Amazon for fulfillment ahead of orders.
Key Features For Sellers
Amazon Marketplace offers you access to 300 million users and 197 million visitors per month.
Our Advice
Amazon mostly deals in fashion jewelry and cheap fine jewelry below $800. It also carries items in various sizes because to store all variations in FBA for great results. If you produce the item in large amounts and create a large inventory for FBA, this is a good fit for you.
In order to sell on Amazon, you should make sure strong logistics, and keep the inventory stocked at FBA. Maintain the trust and goodwill of your brand. Make-sure have a solid customer base and faithful suppliers. For example, you can cooperated with KRKC manufacturer (95% items are in stock, shipped within 24H) to promote your selling.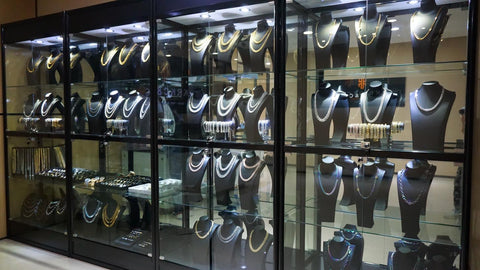 Be Aware
Amazon is also running its own brands, Amazon collection, an Amazon Exclusive. So during selling on Amazon, you are not competing with other sellers but with Amazon itself.
Amazon has several requirements that should be followed by every seller. The product quality, customer service, inventory, listing composition, unique content, brands, and more.
Advantages
Selling jewelry on Amazon is simple, especially if you have an e-commerce site set up. Register your site with Amazon and start adding products to Amazon's catalog. You can add a new listing or list already sold products.
Being an entrepreneur, you have to go where customers are, and mostly the consumers using Amazon to purchase jewelry. In case your products not listing on Amazon, you are missing the opportunities to improve brand visibility.
Disadvantages
When you decide to sell products through Amazon, you get access to many consumers that you might attract on your own. This doesn't mean you can't win customers to your own brand, but you do not have access to all information provided by tracking and metrics during the sales.
It's always crucial to think about what's best for brands long-term. Relying merely on Amazon for sales can't be enough.
3. Recommended Marketplace: eBay
With two billion daily transactions and 180 million actives of the active buyer, eBay is the great market place that provides plenty of opportunities. eBay is transitioned from an auction-only platform to one that sells most merchandise in buy-it-now, catalog format. The eBay sellers have a large product catalog similar to Amazon for using mass production and strong logistics.
For Instance: Several Southeast Asian sellers sell inexpensive fashion jewelry in mass-production successfully on eBay. The seller can upgrade fine jewelry priced above $5000.
Key Features For Sellers
eBay has simple policies to sell jewelry through the online marketplace.
The seller can also sell loose gemstones as well as diamonds on eBay.
In case you want to place jewelry for auction, you can list up free 50 items in a month.
From the other entire marketplace the eBay builds the best bridge between B2B and B2C.
Our Advice
Mostly the marketplaces like eBay do not care about jewelry uniqueness but understand the importance of logistics and set high standards. In case you are trying to sell your jewelry on eBay with handling times of more than five days, you will hardly get any chance to create a sale stream. Optimize your eBay listing pages to increase visibility and sales and pay close attention to your visitors what would matter to them on your listings.
If you choose to cooperate with KRKC manufacturer, we can provide fast delivery and different logistics options to meet your demand.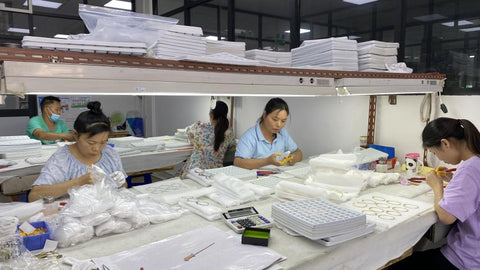 Be Aware
Start cost on eBay is high. Large marketplace like Amazon and eBay require the investment of $1000 to $3000.
Advantages
You can list 50 items per month on eBay, and after that, you have to pay pennies per listing.
eBay has 160 million users
Disadvantages
If you want to auction your jewelry, it can be intimidating. You can add the minimum selling price to ensure that you need a minimum price for your products.
The final value can access the fees for selling your jewelry. This factor can fee into your profit and loss consideration if you choose eBay as our selling choice.
4. Recommended Marketplace: Esty
The business owner who wants to sell handcrafted goods can choose Etsy as their marketplace. It has 1.7 million active users. The market is quite saturated as 25% over 40 million unique listings is of jewelry. It implies that the platform is quite perfect for handmade, boutique, and design-oriented jewelry businesses. The cheaper and moissanite jewelry does well at this marketplace as the Etsy price top out around $4000. Similar to Amazon and eBay, the loose diamonds and stones can be sold on Etsy.
Key Features
On Etsy, the seller doesn't have to stock inventory at any location. The buyer will order according to the photo. This method works well for niche jewelers that carry specialization in custom pieces.
Unlike any other online marketplaces, Etsy is more community-based.
Our Advice
There is a lot of competition on Etsy as 40% of customers locate items from store pages, commonly coming from other items from the same seller. This is the reason optimizing your listing is essential.
Of course, the most ideal state is that you can always show distinctive products to your consumers. And KRKC jewelry manufacturer can help you do just that! Every month, we creat 50+ new designs for customers and have 3D rendering as technology support.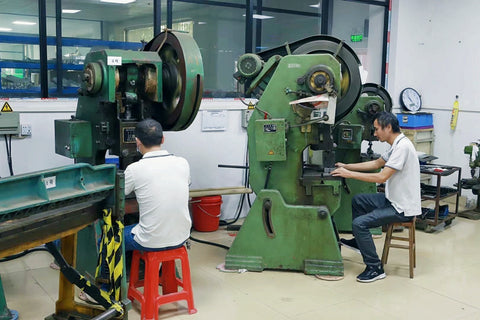 Be Aware
Sellers on Etsy now use outside manufacturing that has changed the marketplace considerably. Top class jewelry sellers are no longer handcrafting producers.
To get the more out from your business, it's critical to sell your jewelry on multiple marketplaces, like ArtFire, OpenSKy, Amazon Handmade, etc.
Advantages
Etsy has about 30 million buyers worldwide, which means it can bring a lot of traffic for startups. Many people are aware of Etsy and trust to buy handmade goods.
Etsy charges no monthly fees to keep stuff once you pay the listing feeds. You can store the jewelry until you sell them.
Disadvantages
Etsy charges pennies to list each of your items for sale, and if you list your wholesale jewelry, it can cost you immensely. Costing pennies may not seem a lot, but for wholesalers or large inventory owners, listing all your goods' jewelry can add up quickly.
Etsy has 1.8 million current sellers, which means a lot of competition. You jewelry stuff might never be seen on their site.
5. Recommended Marketplace: Walmart
Walmart is the top five eCommerce markets that are growing rapidly. When it comes to jewelry sales in the catalog model, the Walmart is on number second after Amazon. Strong logistics and mass-produced jewelry lines are vital factors needed for the success of the market.
Key Features
Walmart only considers US companies as sellers, which is a big benefit for US local jewelry businesses.
Walmart itself sells approximately 2% of jewelry. That means that third-party sellers don't have to compete much compare to their own brand.
Our Advice
This is the perfect online marketplace for jewelry sellers to enter now. Such as Walmart and Amazon have strong logistics and fulfillment systems that offer advantages to sellers.
Be Aware
To sell jewelry on Walmart, the sellers have to purchase a global identification number (US code) for each product that can be expensive.
Seller support is poor compare to Amazon; you unable to get answers for entire questions.
Advantages
The primary advantage of Walmart is no regular fees. The seller will only pay referral fees that actually make a sale. On the other hand, the seller has to pay monthly dues and variable fees on top of referral fees—Walmart charges 20% referral fees on jewelry.
As per Walmart marketplace, there is the number of SKU minimum or maximum. The seller can list their entire items with us. Sellers of robust product range don't have to worry while choosing which product they can list.
Walmart also carries a list of prohibited products, but it is based on pretty standard compared to another online marketplace.
Disadvantages
The seller must take approval from Walmart before setting up the shop because Walmart aims to maintain its reputation as a trustworthy vendor. The application process takes 10-15 minutes to complete as per instructions, but you also need official documents like tax ID, W-9, and product GTINs.
Removal Of Product If Too Pricey
Walmart's problem is removing sellers' products suddenly because of the heavy price just to maintaining the low price reputation. Walmart has two non-negotiable rules:
Price parity rule
Price leadership rule
6. Recommended Marketplace: Alibaba
Alibaba, a Chinese e-commerce giant, allows the jewelry seller to sell the jewelry product worldwide. At this marketplace, you can sell jewelry products easily and transparently. The presentation of jewelry products is tasteful and authentic, making overseas jewelry a fun job.
Key Features
On the jewelry side, Alibaba is highly opted for by Asian sellers, as it has a strong presence in Hong Kong, India, and China.
Our Advice:
Alibaba's main selection of jewelry trade is Bracelets & Bangles, Costume & Fashion Jewelry, Rings, Earrings, and necklaces.
Be Aware
Alibaba mostly has a buyer side for jewelry businesses from Canada, India, Uk, and the USA.
The Alibaba highly traded loose gemstones are Quartz, Agate, Sapphire, Pearl, Emerald, Garnet, Ruby
Advantages
Alibababest-sellingjewelry is designed with precious metals such as silver and gold. The classic accessory gives men and women a perfect look.
com has the customers' reliable sellers and manufacturers that give surety of their products such as the purity of the metal and value.
Disadvantages
The goodwill of Alibaba is not good. It is considered as self-centric as customer filed adverting, billing, and delivery complaints.
BBB give F rating to Alibaba because they do not respond to the complaints. From last three years out of 154 complaints, they did not respond to 114 complaints. Moreover, the maximum complaints are regarding product or service.
Conclusion
To establish jewelry e-commerce, better strategy and execution are needed.
Choose the accurate marketplace that hikes the profit in the jewelry business. This should comprise the service offer, logistics, product line, budgets, and existing business structure.
Marketing on multiple channels lowers the risks. Initiate the startup with two-three marketing channels and get experience.
If you have any questions related to the sales of jewelry online, you can always ask. We'll be glad to help you in every possible way that we can. We wish you all the very best for the success of your e-commerce jewelry store.